Our Guide to
Safaris in Zimbabwe
Country of impressive contrast 
Zimbabwe is three times the size of England and takes its name from Great Zimbabwe, a fortified trading hub built in medieval times and used by the Shona tribe.
Today, the Shona constitute 70% of the country's population. What was once a rich nation, Zimbabwe has had a turbulent history that saw great loss including its own currency after a ridiculous inflation of 231 million percent. These days the local currency is the US dollar. Slowly getting back on its feet, Zimbabwe's main economy stems from farming and agriculture whilst tourism is ever-growing.
Great Zimbabwe, which the country gets its name from, has been declared a UNESCO World heritage site. It is an ancient stone ruin that is said to be the ancestral home of the modern day Shona people. Established in the 11th century AD the site was the location of the Royal Palace of the ruling monarch at the time.
The empire was at its strongest during the mid 14th century where it controlled trade between East and Southern Africa and was a seat of political importance. The site is home to the Great Enclosure, the Hill Complex and the Valley Complex. All built of stone and clay.
Zimbabwe's colonial history began in the late 18th century with Cecil Rhodes from the British South Africa Company (BSCA), as he gained the rights for Gold mining in the area. Rhodes began to establish the company rule over the region and this led to the First Matabele War, which Rhodes and the BSCA won.
In 1895, the BSCA changed the name of the territory to Rhodesia, and the region of the lower Zambezi basin became know as Southern Rhodesia. After failed rebellion attempts by the Ndelebele and Shona people the United Kingdom annexed Southern Rhodesia and it become a self-governing British colony in 1923. Zimbabwe gained its independence on the 11th of November 1965.
What are you waiting for?
Let's Chat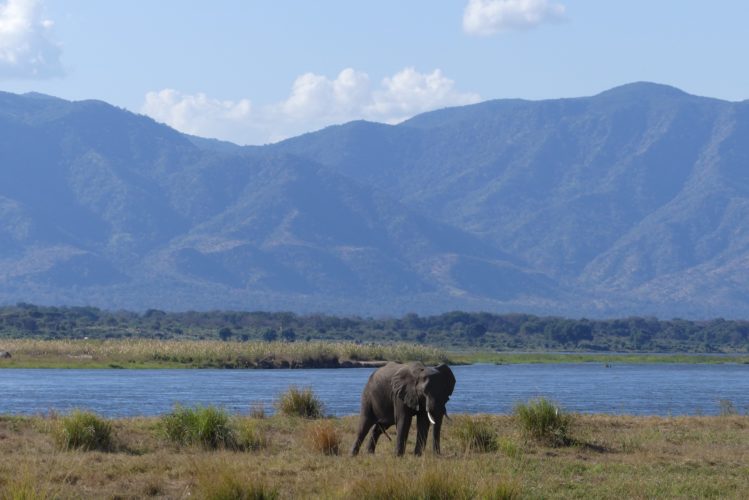 Images courtesy of our guests
Zimbabwe Safaris
Let the majesty of this natural wonderland awaken your senses.
Welcome to one of the most spectacular countries on the continent with impressive natural features, abundant wildlife and UNESCO cultural and natural sites like Victoria Falls, Mana Pools National Park, Matabo Hills, the Great Zimbabwe National Monument and Khami Ruins National Monument. Two mighty rivers border this landlocked country, the Zambezi that runs along the northern frontier and the Limpopo in the south. 
Hwange National Park is known for its large elephant population, some 50,000 animals with herds as large as 400 often seen whilst on safari. Here you will have the opportunity to track for 100 mammal species, 400 bird species and enjoy a biodiversity that rivals the Kruger. The benefit here is fewer people, camps and cars. Mana Pools boasts the best of both worlds, with game viewing activities taking place on land and water. The stillness of sleeping out in the bush with nothing but the wind and calls of wildlife around you is blissful, if not a little intimidating that first night.
A Wildlife safari in Hwange and Mana Pools National Parks are beautifully book ended with a visit to Victoria Falls and time out on Lake Kariba. Known locally as a Mosi oa Tunya meaning the smoke that thunders, Victoria Falls stands tall at a staggering 108 metres with an endless flow of enraged water plummeting over the edge. At its peak, more than 27 million cubic feet of water fall per minute with the spray rising up to 1,300 feet drenching its spectators.
Kariba is one of the largest man-made lakes in the world like an inland sea. The adjacent Matusadona National Park teems with wildlife. Across the expanse of water and wildlife rich plains sits a spectacular escarpment that stretches to the Rift Valley.
Zimbabwe safaris are proving to be a great choice for those looking for an all round safari experience, packed with adventure and a touch of safari holiday luxury. Zimbabwe family safaris are gaining popularity too as more and more properties provide exceptional facilities, accommodation, tailored safari activities and more!
Top Five in Zimbabwe
Majestic Victoria Falls when its flowing at full waters because you can get saturated whilst on foot and see the sheer enormity of it from a helicopter flight.
Hwange National Park for the ultimate walking safari getting you close to elephants
Canoeing safaris and kayaking are outstanding in Zimbabwe not least for its wilderness areas of Mana Pools and Zambezi National Park and the very best river guides.
Mountain biking safari gets you close to wildlife on a mountain bike at Jozibanini, a remote safari camp in Southern Hwange.
Get off the beaten track in Zimbabwe and enjoy exploring private reserves set up simply to preserve like Singita's Pamushana.
Zimbabwe Holiday Accommodation
Zimbabwe knows great style when it comes to accommodation and there is everything and anything on offer from affordable owner run bed and breakfasts in Victoria Falls to uber luxurious tented camps in wilderness areas like the stunning Somalisa Acacia (pictured).
The Victoria Falls Hotel is steeped in colonial history. Built in 1904, the hotel is a monument to the first explorers of Africa, representing the sophistication of the bygone era. With modern refurbishments and attention to detail, you will be pleased to know that all the modern luxuries we have become accustomed too are available.  The hotel itself is known for its traditional high tea, and is something we highly recommend you add to your travel plans. From the terrace and some rooms you can see the bridge and spray of the Falls so it is well positioned for exploring.
If you want a river experience and camp right on the water you have to visit Mana Pools. Hwange National Park gets you close to big game and it's home to some impressive safari camps and lodges in private concessions for a more intimate experience and remote areas of national parks.
Wherever you choose to spend your time in Zimbabwe we have an assortment of lodges, tented camps and mobile safari camps we love to recommend.
Best time to visit Zimbabwe
Zimbabwe safari goers can expect mild temperatures throughout the year. Maximum temperatures range between 25 and 35 degrees whilst minimum temperatures range from 7 to 20. The dry season runs from May to October and is considered the best time to visit for wildlife due to clear skies and little rain. Bear in mind September and October become very hot and dry and at this time, wildlife congregates more than usual around waterholes and rivers. Rainy season is December through to around February. Victoria Falls is slightly different and if you seek the thrill of the falls like you see on documentaries, it's best to visit in April and May. It is truly spectacular to see the full force of water surging over the cliffs. The later in the year you visit Victoria Falls, the lower the water levels and it is reduced to the main cataract falling in December. Having said that, it is then the best time to go white water rafting because the rapids are more exposed making for a thrilling adventure.